Guila Muir and Associates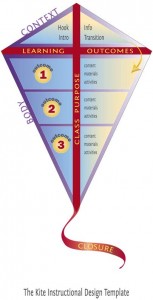 The Kite Method: Instruc­tional Design That Soars is our flag­ship course. Based in solid adult edu­ca­tion research, it pro­vides the essen­tial skills to develop effec­tive train­ing ses­sions. Through­out the course, par­tic­i­pants apply the skills they are learn­ing to a topic of their choice. By the end of the course, they have devel­oped and deliv­ered a train­ing ses­sion they can present almost imme­di­ately in the workplace.
We're so con­fi­dent this class works, we guar­an­tee it!
Overview
2-day ses­sion
Takes place at a site of your choosing.
Great for national and inter­na­tional teams want­ing a stan­dard­ized approach to training.
The most lively, research-based, and effec­tive course on the market.
By the end of this course, par­tic­i­pants will be able to:
Describe how adults learn best and how to address diverse learn­ing styles in train­ing sessions.
Hook their audience's inter­est and engage­ment in the first 30 seconds.
Develop and model 15 excit­ing, effec­tive, inter­ac­tive learn­ing…
View original post 76 more words